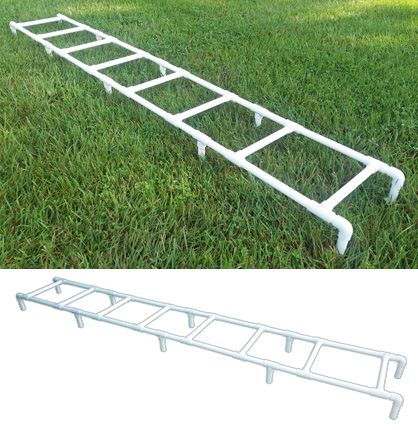 FRIDAY FUSION CONTEST…
This contest is now closed, but comments can still be viewed and added.
An Agility Ladder is called a "conditioning obstacle". Besides just being different and fun, conditioning obstacles are used for helping dogs develop better coordination and confidence with their bodies, so they can better perform on regular agility obstacles.  The ladder helps dogs learn they have back feet, and how to use them in a more caculated, accurate manner.   It can improve your dog's performance on regular agility obstacles that require stable footwork, such as the dogwalk, teeter, and even jumping (spacing themselves).   To win this obstacle…
Tell us a story!  Tell us why and how you can use the ladder for your training purposes.
The deadline is Sunday night at midnight.
The winner will be posted Monday morning.
After they are all collected, an employee here will pick a random number to be the winner.  If we get 45 entries, for example, they will pick a number between 1 and 45.
To enter your answer, click on "comments" in the upper right corner.
Don't forget that you have to have registered on this website at least once in the past.  You are then good for all friday contests!